Does Your Compactor Tell You When something is Wrong and How to Fix it?
Our Compactor Does.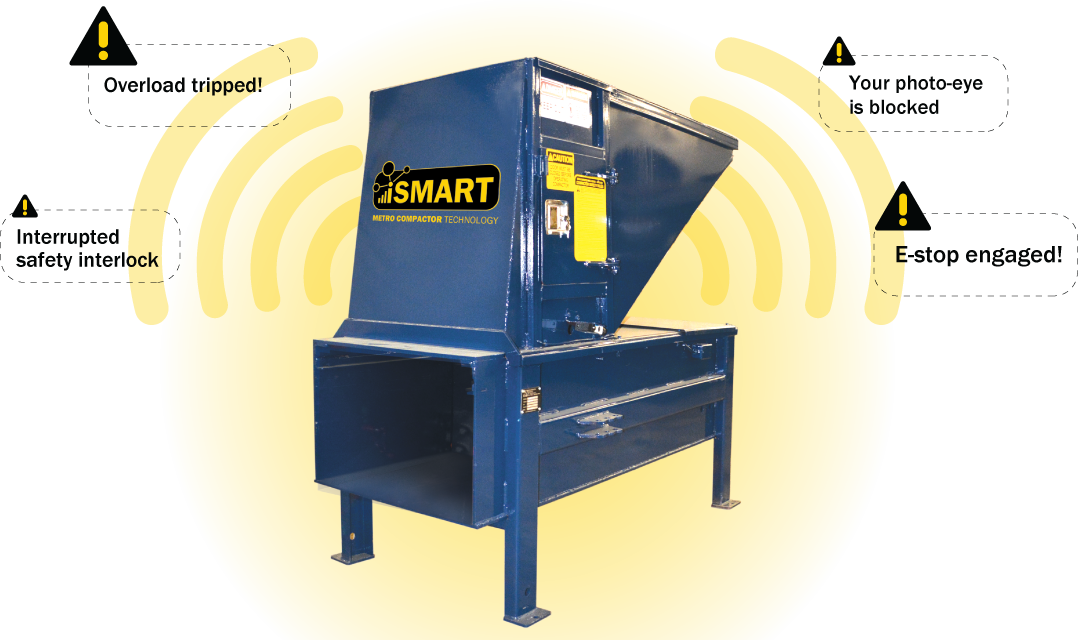 iSMART COMPACTOR is connected to the IoT, (Internet of Things) allowing our team to monitor and run wireless diagnostics.
Save time and money by being proactive with your yearly preventative maintenance, and keeping your compactor at maximum efficiency with our wireless service disruption notifications.
Optimize your waste disposal operations and lower costs across the board. We will advise you of any issue that can be resolved without a service visit. Our technicians are ready 24/7 in case of a more complex issue.
HOW DOES IT WORK?
The iSMART Compactor can detect issues and then alert our staff. All alerts are saved in the database and our staff is on hand to analyze the issue and contact you right away. Simple issues can usually be resolved over the phone with the guidance of our technicians. If we identify something more complex, we will dispatch a technician to your location. This helps keep your equipment in top shape and eliminate unnecessary service calls.

ISMART BENEFITS:
Below are the benefits of a fully tuned and optimized iSMART Compactor System:
Wireless IoT Communication
All operational data is received, reviewed, and recorded by our expert staff
Optimize Efficiency Based on Data
Our team monitors your compactor and will make sure that energy use and cycles are optimized for your unique needs
Customer Notifications
You will be notified when maintenance on wear parts is required
iSMART Notifications
We receive an error code whenever a malfunction is detected. In most cases we will contact you with a fix before you know the issue is there
Let us show you how an iSMART Compactor can help you save on your waste management costs!