Model: RJ-550 Compactor
The Ramjet RJ-550 Garbage Compactor is a real workhorse! Its proven capability assures top performance in heavy commercial and industrial applications.
The RJ-550 is unique to other compactors in its class, offering a large 60-inch (1524mm) wide by 97-inch (2464mm) long clear top opening and a 39-inch (991mm) deep charge box–a handy feature during peak Dimensions loading times or when compacting bulky items.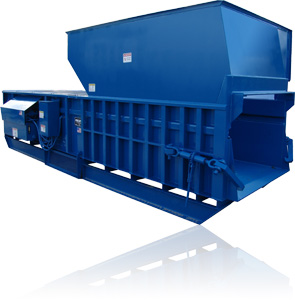 A GARBAGE COMPACTOR ENGINEERED FOR DURABILITY
The RJ-550 is a high-capacity, heavy-duty compactor ideal for industrial and commercial applications where large volumes of solid waste generated. Its rugged construction and large hydraulic power unit allow maximum compaction performance. The RJ-550 features a large 97-inch (2464mm) by 60-inch (1524mm) clear top opening to accomodate oversized crates and cartons.
A quality built unit, the RJ-550 is solidly reinforced with 4-inch I-beams throughout. The sturdy ram has a 1/2-inch (12.7mm) face plate. The sides are constructed of 1/4-inch (6.35mm) thick steel supported by 14 vertical angles with 1-inch (25.4mm) by 4-inch (101.6mm) bar running horizontally on each side of the charge box area for increased rigidity and strength. The tough 1-inch (25.4mm) by 8-inch (203.2mm) by 6-inch ( 152.4) angle breaker bar easily handles the beating of daily industrial trash.
TRANSFER STATION APPLICATIONS
The RJ-550 is also designed for residential collection vehicles serving transfer station applications for municipalities and private contractors. A conveniently located RJ-550 transfer facility will eliminate the need for unnecessary trips to the landfill by intermediate collection vehicles resulting in fuel, maintenance, and labor cost reductions. Compaction into large compaction containers or transfer trailers may also reduce dumping fees.
CART DUMPERS, CHUTES, AND HOPPERS
The RJ-550 can be fitted with a variety of material handling equipment such as chutes, hoppers, and dumpers. The RJ-550 shown is fitted with a side fed hopper and a ground level dumper. Cart Dumpers can be custom built to your specifications to accommodate existing cart systems.
ADDITIONAL FEATURES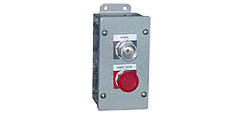 The RJ-225 and RJ-225HD feature an advanced, simplified 2-button control system. It is a key-operated, fully automatic and contained in a weatherproof NEmA 4 enclosure. Connected to the power pack with 13-feet (3.96m) of Sealtite®, the controls can be located for operator convenience.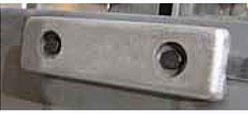 The packing ram is supported by specially formulated cast iron shoes which ride on replaceable wear strips. this exclusive design protects the charge box floor from the full force of the packing ram, extending its life and dramatically reducing compaction-robbing friction.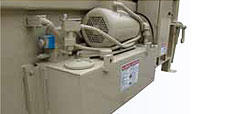 The RJ-550 features a side-mounted power unit. It offers the convenience and ease-of-maintenance of a remote power pack with the space savings of an integrated power pack. The configuration also eliminates ALL electrical components from inside the compactor.
IMAGES AND DOCUMENTATION
Questions about a product?