RJ-450HD & RJ-575HD Pre-Crusher
Shrink Your Disposal Costs with a PreCrusher. Get 30% greater compaction results than with a standard compactor! A PreCrusher eliminates "light loads" of pallets, crates, large boxes, and drums that fill your container with air. The packing ram moves through the charge box with a high level of force that effectively crushes everything against the PreCrusher's vertical steel wall. The wall is then raised and the ram fully extends, compacting the refuse into the attached container. Uniform compaction is achieved throughout the receiver container. Every stroke is a crushing compaction stroke. The results: fewer trips to the landfill!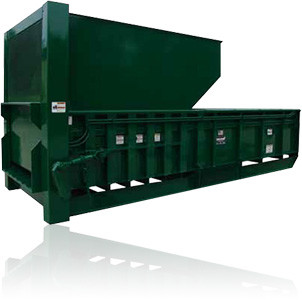 The RJ-450HD/PC/High-Volume and RJ-575HD/PC are fully automatic. After pressing the "Start" button, the compaction ram crushes the material against the heavy steel wall in the charge chamber. The steel wall then automatically lifts and the crushed material is re-compacted into the receiver container. The PreCrusher then resets itself to await the next load.
Pre-Crusher Features
High-Force Crushing Ram: moves through the charge box, effectively crushing everything against the vertical steel wall. The wall is then hydraulically raised and the ram extends a full 13-inches (330mm) into the compaction container..

Guided Ram: supports and guides the packing ram, which reduces friction, improves compaction, and extends the life of the ram.

Vertical Steel Crushing Wall: while in the DOWN position, it serves as an effective crushing gate to eliminate "light loads" of material that would fill your container with air.

Self-Cleaning Gate: has a beveled design that prevents crushed materials from sticking to the door
Low-Profile Design: enables the units to be shipped fully assembled.

Heavy-Duty Construction: the charge box, sides, ram top, floor, and face plates are specially engineered for heavy-duty industrial applications

Tongue and Groove Flooring: prevents thin materials from becoming trapped under the ram. Optional side tongue and groove also available.

Programmable Controller: standard on automatic units, the controller simplifies operation and eliminates many relays and limit switches
Pre-Crushers Are Ideal For:
Other hard-to-destroy materials
Custom Capabilities
Metro Compactor can custom outfit your PreCrusher application with options such as security chutes, cart dumpers, specially designed hoppers, remote controls, hand and toe rails, tread plate tops for walk-on or drive-on applications, and electronic compactor controls and monitoring systems such as the Pandora® Remote Monitoring System.
IMAGES AND DOCUMENTATION
Questions about a product?