UNTOUCHABLE VIP & VIP FL/3
Untouchable VIP Waste Containers were specifically developed for the narrow alleys, making them perfect for areas where space is limited but compaction is required.
Because the power unit is on the side of the Untouchable VIP it can be placed almost directly against a back wall. The container is on heavy-duty casters and easily be rolled to an area accessible by waste collection trucks. The Untouchable VIP can be configured for front or rear loader collection vehicles.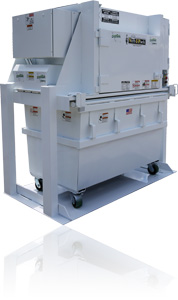 COMPACTOR FEATURES
The compact size of the Untouchable VIP allows it to fit just about anywhere, even in trash rooms inside buildings.

Power unit is accessible from the side rather than the rear allowing the back of the unit to go almost directly against a wall

Heavy-duty 2.75 cubic yard compaction container is on casters and can easily be rolled to an area that is more accessible by waste collection trucks
Triple interlock, keyed operation system helps prevent unauthorized use of the compactor and controls pilferage

Uses more than 13 tons of crushing power forcing the ram 18″ into the container. Between uses, the ram seals off the container and applies constant pressure on the refuse–increasing compaction and reducing spring-back

INTEGRATED DRIVER LIGHT
The Integrated Driver Light illuminates green to signal the driver that the container is "ok" to be removed and dumped, making dumping simple and quick.

TRIPLE INTERLOCK SYSTEM
The Triple Interlock System prevents the door from being opened at all times except when the unit is in the proper feeding position. A second interlock prevents the unit from cycling (operating) when the door is in the open position. The third interlock prevents the unit from functioning when the container is not in the proper position.

HEAVY DUTY CONTAINER
The Untouchable VIP's 2.75 cubic yard (2.10 cubic meter) heavy-duty containers are on casters and can easily be rolled to an area accessible by waste collection trucks.

REMOTE POWER PACK
The Remote Power Pack, separate from the compactor/container, remains free of damage caused during hauling to and from disposal sites and free of problems caused by landfill dust. No electrical connections to make or break — two simple-to-use, hydraulic quick disconnects couple the power unit to the packing head. Weather Cover and the UL® & CUL® listed Motor Control Panel are standard equipment.
EXTREMELY EASY TO USE!
The operator inserts the key and then turns it to the "Up" position. When the ram moves to the up position the door can be safely opened.
The large opening allows  a 30 gallon container to be emptied easily. The new waste material is dumped into the cavity left in the container by the previous ram position.
After feeding, turn the key to the "pack" position, then remove the key. The ram cycles automatically to the down position, compacts and holds the waste material until the next load.
IMAGES AND DOCUMENTATION
Questions about a product?