RJ-250SC & RJ-250HT COMPACTORS
RJ-250SC COMPACTOR
Compare our RJ-250SC Trash Compactors with other self-contained trash compactors on the market, and you'll quickly discover why Metro Compactor is the preferred choice of discriminating buyers.
Components are selected for longevity and minimum maintenance, with special attention given to the selection of highly sensitive components. Stress engineering provides the optimum degree of structural integrity. Only the best materials are used and the highest standards of quality are observed in the manufacturing process. That's why you'll find these trash compactors "packing trash" long after others have failed.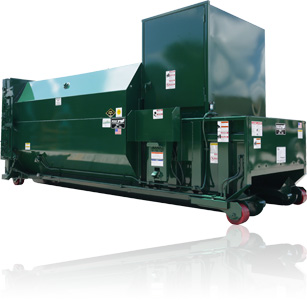 Our RJ-250SC Trash Compactors are state-of-the-art in roll-off self-contained trash compactors, featuring oversized feed openings and expanded container storage capacity. They are designed to store and transport your waste, prevent contamination of public areas in accordance with public health department requirements, improve working conditions for your employees, and reduce disposal costs.
RJ-250SC Trash Compactors can be customized with a variety of loading arrangements to suit your specific needs.
RJ-250SC COMPACTOR FEATURES
Exclusive 41″ x 58″ (1041mm x 1473mm) feed opening to handle large, bulky items

Continuous feeding capability — even while the compactor is operating

Adaptable to special loading systems such as large- capacity hoppers, security chutes, or total enclosures.

Odor and pest control via marathon's Ozone Odor Control option

More than 24 tons (21,722 kg) of crushing force to reduce refuse to a fraction of its former size, saving valuable space

Easy loading from either ground or dock level.
Fire hose connection provided on each unit

Factory tested to ensure leak-proof construction

Also available as Green Built®, featuring Solar or 5 HP high-efficiency power units and other environmentally friendly components

Ideal for high liquid waste
RJ-250HT COMPACTOR
RJ-250HT Trash Compactors can be customized with a variety of loading arrangements to suit your specific needs.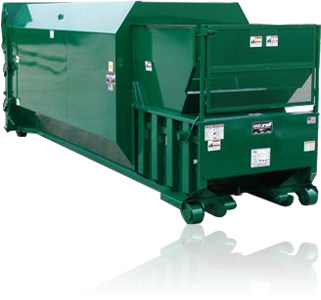 RJ-250HT COMPACTOR FEATURES
Extra-wide ram, clear-top opening (78″ x 40″) accepts larger material

Low feed height (43 1/2″) – great for ground feed applications, greater slope in chute feed applications, and low dock height applications.

Full "P" shaped door seal and patented double-hinge provides liquid tightness.

FQwick Clean Tank® flushes the area behind the ram
12″ high sump area contains liquid

CYCON Life-Xtender® provides advanced performance, higher compaction ratios, and smoother, quieter operation.

Also available as Green Built®, featuring Solar or 5 hp high-efficiency power units and other environmentally friendly components.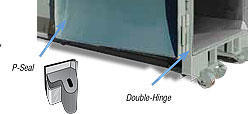 P-SEAL & DOUBLE-HINGE WITH BRONZE BRUSHING
The P-shaped Door Seal is specially designed for portable compaction containers to provide a superior watertight closure. The mounting is engineered for quick and easy installation when replacement is necessary, requiring no field fitting, cutting, or welding.
Every RJ-100SC compactor is tested for watertightness before leaving the factory. Liquid retention is ensured by the incredible Double-Hinge. It creates uniform seal compression while eliminating the seal "scrubbing" and damage so often encountered with competitive designs. The Double-Hinge also saves expensive driver and truck time because only one easy-to- operate ratchet makes it work.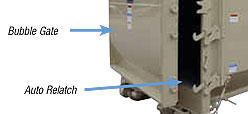 BUBBLE GATE WITH AUTO RELATCH
The innovative "Bubble Gate" adds a full cubic yard to container capacity. Superior compaction ratios result from its special curved shape. These two unique benefits reduce costs of disposal.
The ultimate in latch systems, the "Auto Relatch" eliminates the need to hold the door while operating the latch ratchet. This design enables the operator to use both hands on the ratchet.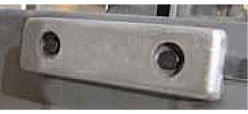 PACKING RAM
The packing ram is supported by specially formulated cast iron shoes which ride on replaceable wear strips. This exclusive design protects the charge box floor from the full force of the packing ram, extending its life and dramatically reducing compaction-robbing friction.
QWIK CLEAN TANK®
The Qwik Clean Tank with exclusive Trash Check™ is a standard feature on the DRC II. It funnels any liquid seepage occurring during compaction into an enclosed area underneath the charge box floor. The liquid is automatically discharged at the disposal site, in effect flushing the container and the area behind the ram.
CYCON CYCLIC CONTROL SYSTEM
Standard on all DRC Compactors
Upper doors are top hinged and have ratchet locks that enable the door to be opened independently of the lower doors.

Lower doors are hinged in the center of the container. each door is equipped with marathon's standard ratchet latch and open independently for controlled discharge of compacted material.

For wet waste applications, an optional door gasket is available with marathon's custom designed p-shaped door seal, developed specially for self-contained compactors used for wet waste. either or both sides may be gasketed.
ALSO AVAILABLE AS GREEN BUILT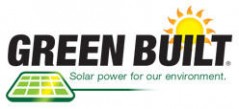 Metro Compactor is committed to providing waste compaction solutions that meet the global sustainability needs of our customers. With each new product, we have made measurable strides in reducing energy and fuel consumption while continuing to offer superior product performance.
Our line of Green Built solar and solar-hybrid compactors is a first in the industry.
The 100% solar-powered models compact refuse using the power of the sun for true independence from the power grid and its associated costs.
The solar-hybrid models connect to the power grid as a backup that automatically switches when necessary. When in solar mode, the compactor uses no AC power. When in hybrid mode, the compactor uses much less energy than conventional power units. The batteries recover as the compactor continues to be available for operation.
IMAGES AND DOCUMENTATION
Questions about a product?