DRC II Compactor
Model: DRC II Compactor
The DRC II is one dual-purpose compactor, occupying one space, with two separate compartments that enable you to compact a wide range of waste and recyclables all at one time.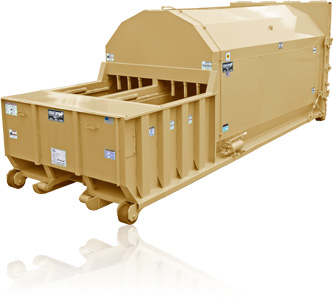 COMPACTOR FEATURES
Increase Your Return on the Sales of Recycled Products: Two separate compartments segregate waste and recyclables, which increases your return on the sales of recycled products.

Two Compactors in One: Separate, compact, and process two different materials, such as recyclables and garbage, at the same time in an area where space permits only one compactor.

Neat and Attractive Appearance: Both recyclables and garbage are neatly contained after compaction, providing your building, facility, mall, or store with a neat and attractive appearance.
FLEX-D-VIDER®
Creates Two Variable Capacity Compartments
The DRC II has a total capacity of 28 cubic yards (21 cubic meters). The two variable capacity compartments are separated by a 24″ (609,6mm) high solid welded barrier. This wall prevents liquid leaking from one side to the other. The DRC II accepts and compacts unequal and unpredictable volumes of two separate discardables. This is made possible by the patented Flex-D-Vider, a pivoting steel wall that adjusts the compartments' capacity during the loading and packing process. For easier discharge of the materials in the smaller compartment, a hydraulic cylinder enables the operator to move the Flex-D-Vider to the vertical center of the container, relieving the pressure on the remaining waste or recyclables. Each compartment when loaded can represent as little as 30% or as much as 70% of the unit's total volume. The DRC II can also be chute-fed to increase customer security and reduce labor costs.
FOUR INDIVIDUAL DOORS FOR CONTROLLED DISCHARGE OF COMPACTED MATERIAL
Due to the many variable positions in which the Flex-D Vider can be located, four individual doors are used for the discharge of materials.
Upper doors are top hinged and have ratchet locks that enable the door to be opened independently of the lower doors.

Lower doors are hinged in the center of the container. each door is equipped with marathon's standard ratchet latch and open independently for controlled discharge of compacted material.

For wet waste applications, an optional door gasket is available with marathon's custom designed p-shaped door seal, developed specially for self-contained compactors used for wet waste. either or both sides may be gasketed.
QWIK CLEAN TANK®
The Qwik Clean Tank with exclusive Trash Check™ is a standard feature on the DRC II. It funnels any liquid seepage occurring during compaction into an enclosed area underneath the charge box floor. The liquid is automatically discharged at the disposal site, in effect flushing the container and the area behind the ram.
CYCON CYCLIC CONTROL SYSTEM
Standard on all DRC Compactors
Reliable, solid state circuitry eliminates all pressure and limit switches

CYCON's no-shock cycle control extends cylinder and hose wear life

Automatic "container full assurance system" — the ram dwells against the load at full pressure, resulting in better compaction

Smoother running, quieter operation
Advanced hydraulic design enables the system to operate at minimum pressure levels except when actually packing solid waste

More accurate advanced Warning or Container full options

Dramatically improved cold weather performance
ALSO AVAILABLE AS GREEN BUILT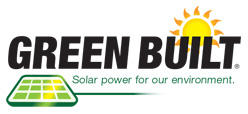 5 HP high-efficiency solar power unit

Biodegradable hydraulic fluid
Metro Compactor is committed to providing waste compaction solutions that meet the global sustainability needs of our customers. With each new product, we have made measurable strides in reducing energy and fuel consumption while continuing to offer superior product performance.
Our line of Green Built solar and solar-hybrid compactors is a first in the industry.
The 100% solar-powered models compact refuse using the power of the sun for true independence from the power grid and its associated costs.
The solar-hybrid models connect to the power grid as a backup that automatically switches when necessary. When in solar mode, the compactor uses no AC power. When in hybrid mode, the compactor uses much less energy than conventional power units. The batteries recover as the compactor continues to be available for operation.
ADDITIONAL FEATURES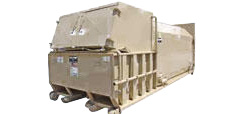 The Dual Recycling Compactor can be fitted with a variety of optional equipment such as through-the-wall security chutes and lockable doghouse hoppers. The DRC II is well suited for ground, doghouse, dock, or chute feed applications. Doghouses may be rear or side feed, or both (shown).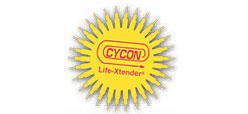 The CYCON Cyclic Control System—which eliminates limit and pressure control switches, produces superior payloads, and reduces trash removal cost—comes standard on the DRC II.
IMAGES AND DOCUMENTATION
Questions about a product?