OCTAGON & OC ULTRA CONTAINER
Our reliable Octagon Compaction Container is designed with a contoured end, which creates a rolling effect as solid waste is compressed inside the container. This unique design fills every void and results in a highly dense compaction.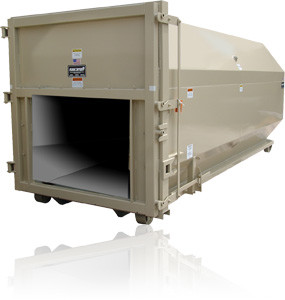 Floor, front, and door were specifically designed to withstand abuse and ensure strength and longevity.

Floor and container sides are constructed out of 7 gauge steel plate back with 3-inch (76mm) structural steel channel 8 5/8-inch (219mm) diameter ground rollers.

Longitudinal sills made of 2-inch (51mm) by 6-inch (152mm) structural steel tubing.

The door is reinforced with 3-inch (76mm) structural steel channels, deep box sections of 7 gauge steel plate, and 3/4-inch (19mm) by 4-inch (102mm) bar stock hinges.
Hinges, guide rollers, and ground rollers are equipped with grease fittings.

Understructures available to fit most roll-off hoists.

46 3/8-inch (1178mm) high by 64-inch (1626mm) wide standard door opening (other sizes optional).
*Steel thicknesses vary by model. See brochure for details.
IMAGES AND DOCUMENTATION
Questions about a product?